Social Media Marketing
Tuesday, April 13, 2010 - 12:58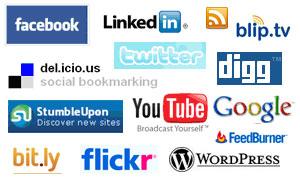 We all know the popularity of social networks such as Twitter, Facebook and the like – but have you considered how these channels can be used to widen the audience for your website information and services. Access to these services provides new and compelling opportunities for promoting your business to a wide and very immediate audience. We have a good track record of leveraging these services to provide creative marketing solutions for our clients
Developing cutting edge systems to manage and publish your data is only part of the story. It is not much use having a website if no one can find it. We employ a range of Search Engine Optimisation (SEO) techniques to ensure that your site is prominent in search engine listings and ranks well for the key words relevant to your business. In addition to the traditional techniques, we have increasingly used Social Marketing to promote the services of our clients.
Gone are the days when a single website suffices as the outlet for your information. Integration with and promotion through the range of channels available today is vital to remain competitive. It is not only about competitive advantage though.  Services such as YouTube, Feedburner, Twitter and other social networks provide rich new opportunities to disseminate information and gain access to new audiences.
We integrate these services with your systems and monitor their effectiveness with analytical tools to judge the success of your marketing and publishing strategies.
 Employing communication through Twitter and Facebook should be seen as additional to your existing communication strategy. Where you may use email and/or direct marketing you can explore the social networks as methods of increasing the reach of your communication. In fact you should see it as an 'upgrade' to your strategy rather than a new trend to follow. Successful Social Marketing is a commitment and should fit naturally within your overall communication strategy.
Contact us today to see what services we can offer: from an initial appraisal of your web site's SEO and opportunities for Social Marketing through to bespoke solutions for integration with 3rd party channels, we have solutions to fit your needs.
Contact Details
Blue-Bag Ltd
 

info

[at]

blue-bag.com

 Telephone: 0843 2894522
 Blue-Bag HQ:
      The Garage, Manor Farm
      Chilcompton, Radstock
      Somerset, BA3 4HP, United Kingdom
 Telephone: (+44) 01761 411542
 Blue-Bag Brighton:
      Unit 35 Level 6 North, New England House
      New England Street, Brighton
      BN1 4GH United Kingdom
 Telephone: (+44) 07944 938204
VAT GB 748125034
UK Company Reg: 3932829