Site Maintenance and Hosting
Thursday, June 10, 2010 - 15:35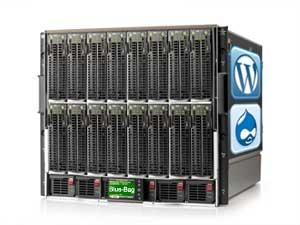 To ensure that we are able to provide the quality of website services our clients have come to expect we provide the full services of an Internet Service Provider (ISP). This enables us to provide custom, secure and high performance website solutions.  We provide services to manage the complete web presence for your website from registration and hosting through security and performance monitoring and support. This provides excellent value for money and provides a single point of contact for all aspects of managing your website; as opposed to having elements of your internet site separated across various providers. As specialist Drupal and Wordpress hosts we provide a managed service to keep your website secure and online.
In the event that you have your own hosting and registration or IT services we have a good track record of working closely with many of the top ISPS.
Our web hosting services are highly competitive, providing domain registration and hosting, web space, email accounts, FTP and database access with a 100% infrastructure uptime SLA. Where we differ from standard web hosts is being able to provide managed hosting services that provide a range of additional services such as regular backing up of your data, monitoring of usage and security of your site, optimising your site for search engines and monitoring your site traffic through log analysis and online analytics. We provide you with online access to many of the hosting facilities so that you can review your site activity and traffic through the industry standard Control Panel 'cPanel®'. The Control Panel is very powerful allowing control of almost all aspects of your hosted account with no need for any command line access or intervention from us. It enables you to manage:
Email: set up and manage email accounts, responders, forwarders and access to web mail;
Domains: Administer your domain(s) and park additional domains and create sub-domains;
Databases: Create and administer MYSQL databases;
Log analysis: View and analyse web access logs (AwStats, Webalizer; Security:
Password protection for folders, IP exclusion, Hotlink protection etc
The selected hosting solution balances value with features and has some limitations on space, bandwidth and opportunities for configuring the server environment. These will be configured to be suitable for the project and can be upgraded at small cost if needed to support increased usage. The initial hosting will use a shared server (shared with other sites) and as a result certain server configurations will not be available. In the event that site traffic increases to a level beyond that suitable for this solution we can transfer the site to a more advanced, dedicated server solution for greatly increased control of the site performance and configuration. A dedicated server solution would allow us to provide a far more advanced solution for performance enhancement but that comes at a higher cost. It is not envisaged that this will be required at the outset however site performance and traffic will be regularly monitored to ensure that the most suitable hosting solution is provided. This is one of the key advantages of choosing Blue-Bag to provide hosting as you will have the peace of mind that site management is catered for proactively.
Contact Details
Blue-Bag Ltd
 

info

[at]

blue-bag.com

 Telephone: 0843 2894522
 Blue-Bag HQ:
      The Garage, Manor Farm
      Chilcompton, Radstock
      Somerset, BA3 4HP, United Kingdom
 Telephone: (+44) 01761 411542
 Blue-Bag Brighton:
      Unit 35 Level 6 North, New England House
      New England Street, Brighton
      BN1 4GH United Kingdom
 Telephone: (+44) 07944 938204
VAT GB 748125034
UK Company Reg: 3932829