Species Protection Legislation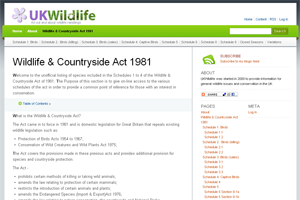 Over ten years ago when we started creating web sites and applications to manage biodiversity related information we needed a public website to act as a host for these projects. UKWildlife.com was created to provide web space for not for profit Biodiversity and conservation projects and provide resources for biodiversity projects.
It was clear then as it is now that we still have a long way to go to provide access to public data such as listings of species concern and statutory protection. In fact 10 years ago no such listings were available online. So we added listings from the Wildlife and Countryside Act to UKWildlife.
Solution:
We have refreshed the design of this site in 2009-10 and upgraded the listings. Have a look and let us know what you think. We plan to extend the site so that it continues to provide access to useful resources. Now the availability of online sources of information is greatly improved and UKWildlife will feature more links to these resources.
Have a look and let us know what you think.