The Species Dictionary at the Natural History Museum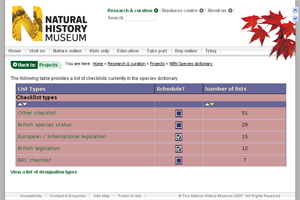 Customer:
Natural History Museum
To create an online representation of the NBN Species Dictionary. The required version was to be a simple reflection of the structure of the data model to highlight the concepts and the content of the standards promoted by the Species Dictionary.
Solution:
We created a detailed specification for a dynamic data driven ISAPI application. The budget for the work was limited and the customer wanted to be able to alter the pages produced by the application independently. We deployed our tag based HTML templates for use with the custom ISAPI application against an MS-SQL™ database. The resulting web site enables visitors to browse and query the species listings of the Species Dictionary. The look and feel of the site has been completely revamped over the past ten years – with no need to alter the ISAPI code base.
See also: The NBN Index & The Wood-pasture & Parkland Information System for similar tag based ISAPI solutions