Scottish Species Database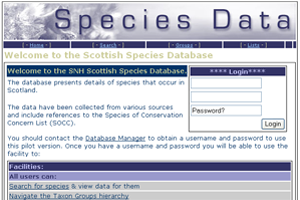 To create a single database out of a series of information sources relating to species of conservation concern in Scotland. The resulting database was to be delivered with a web interface that enabled searching and updating for the clients Intranet.

Solution:
The various spreadsheets and other data sources were cleaned, reconciled to use standard dimensions and modeled within a single relational database in MS Access format. An ASP application was designed and built around Dreamweaver templates . The resulting Intranet application enables the delivery of the data across the clients intranet. A user management model enables control of access to features such as editing, etc.